The Storyville Jassband was bij ons te gast in Arnhem op 21 oktober '22. Wat een weergaloos optreden hebben wij mogen meemaken. De energie spatte ervan af. 
De band heeft een perfecte presentatie en muzikaal samenspel ontwikkeld de laatste jaren. Het concert was het een aaneenrijging van boeiende vertolkingen van bekende en minder bekende nummers. 'Let me call you sweetheart' is een fijn nummer, van origine een wals. Heel goed gebracht door banjoist Tom, eerst heel subtiel, mooi en daarna volgde de band, trombone, trompet, klarinet en ook nog zang van Michel. 'Crying for the Carolines' stond al op een soort videoclip uit 1930 vertelde Michel, die de nummers de hele avond inleidde. Vervolgens kregen we nog een banjo special. Wat een fijne avond was dit toch. De band had van tevoren aangekondigd dat ze twee keer een uur zouden spelen met een half uur pauze er tussenin. Het eerste uur vloog om en werd afgesloten met 'Hindustan', een geweldige drumsolo van Stef. Na de pauze werd er ademloos geluisterd en gekeken naar het door de hele band a capella gebrachte nummer 'Will the circle be unbroken'. Tja, geen dixieland natuurlijk,maar "tjonge, tjonge", wat was dat genieten. Het nummer 'Blues my naughty sweetie gives to me' met mooie zang van Eugene en ook nu weer was het spel op bas, banjo,drums en klarinet geweldig. Woorden schieten voor deze avond eigenlijk te kort. Op de klanken van 'Magnolia's wedding day' werd er volop gedanst. 'Petit fleur' altijd gevoelig en daarna 'Sentimental gentleman from Georgia' met zang van Vincent, drums, koper en niet te vergeten, mooie moves van Michel. Na de meezinger 'Down by the riverside' was het uur alweer voorbij en nam onze voorzitter even het woord.
Nog een laatste nummer, een toegift met zang van Michel en toen was het echt het einde van de jazzavond met The Storyville Jassband . De zaal was helemaal vol en zelfs na afloop bleven er nog velen even napraten over dit heerlijke concert.
Anja van der Weerd
Morning Mike,
What a cracking band you have, all the punters are begging me to get you all back next year. So on your tour next year, if you can fit Whitstable in, let me know.
Many thanks, cheers, Robin.
Great musicians from Holland,
Top entertainment, fun and laughter. Look forward to seeing them next year. — The Electric Palace
Vic & Sue Pheasant: "a 'proper' New Orleans jazz band. Fine musicians.  Great entertainment.  A pleasure to listen too."
John & Brenda Bugg.  "A Dutch treat worth every devalued pound!  Six really accomplished boys who incorporate jazz with gymnastics.  They really enjoy themselves and make sure we do too.  Come back soon!"

Review by Amyn Fazal
The band's sense of humour was evident right from the beginning. Coming all the way from the Netherlands, the internationally acclaimed Storyville Jassband is one of the oldest active performing bands. Manager Michael Muller (trumpet and vocals) explained that the unusual spelling of their name was because back in 1959 when the band was formed they were not aware of the correct spelling of jazz.
The band was clearly enjoying the final seven days of its two-week UK tour. Michael's anecdotes between numbers revealed that the band has played all over the world, its banjo and guitar player Tom Stuip having played in every continent except Antarctica. The rest of the highly talented combo are Eugène de Bruijn-Clarinet (sax and vocals), Vincent Roerdink (trombone), Hein van Rooijen (double bass) and Stef Geurts (drums). The band's collective CV sports numerous international awards and academic accomplishments and this was evident in their playing. Technically brilliant, perfectly syncopated and possessing that essential element of swing. Truly one of the best bands we've ever had.

Hallo Michael,
Wir bedanken uns nochmal für den tollen Auftritt.
Es war sehr schön, auch die Gäste waren begeistert.
Wir wünschen Euch alles Gute und bleibt gesund.
Herzliche Grüsse
Doris Hewitt
Dear Peter, and the rest of the gang,
I feel i have to write to you all and from my hart, thank you all for at great evening, when i left for home after the concert, I felt you have given us a littel part of your hart to us trough your music!
(hope you kan go on living with what is left 
)
NB! when and where are you playing you 60' years jubilie concert ? 
Have you been playing in Silkeborg last year ? – 
Wish you all the best
John Fenger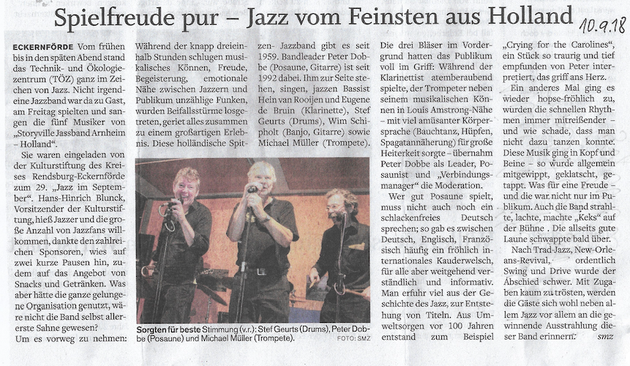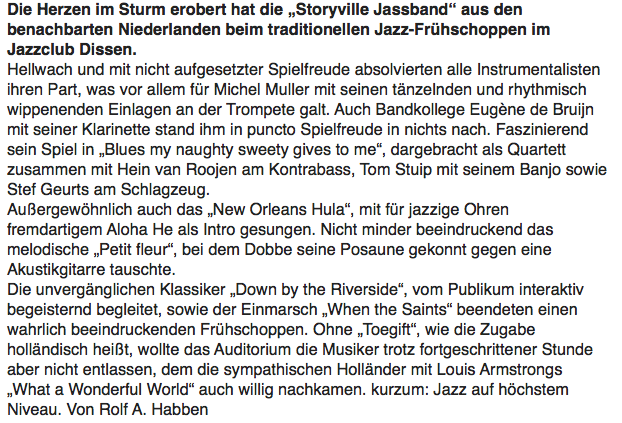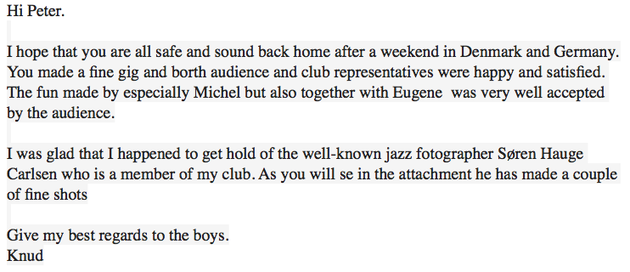 I am pleased that you all got home safely and glad that your tour was so successful.
I have had a chance to talk to a number of people who came to our 'Jazz Nite' and am happy to tell you that all enjoyed your performance. One couple said that they attend a number of live music events and often pay as much as £50 for music no where near as good as Storyville J B.
It was a very good night. Well done and thank you.  When you play well I look good for booking you.
It was a pleasure to have you stay with us and that was said by the other two families as well. We had the opportunity to learn more about you and your band.
We begin to put together the 2019 program of fund raising events in July.
I had been looking forward to seeing and hearing you guys again since you visited last year, when you instantly became (and remain) my favourite band. I am sure I am not alone. 
I now look forward to next year when I hope you will visit us again.
With very best regards
Frankie Patterson
Our members so much enjoyed your performance last week at our Club night; very rarely do a band get a standing ovation!!
I am attaching the review of the evening which will go on our Facebook page and Newsletter.  Please feel free to use it when promoting your band.
If you are going to be in the UK in 2020, please let me know when so that we can invite you to perform for us again.  At the moment the diary for 2020 is free!!!
Brian & Belinda Maddock: "Excellent band.  Hugely entertaining.  Return visit recommended."
John Killian, Vic & Sue Pheasant: "Great band who played some good jazz."
David & Bridget Salmons: "Good bunch of talented musicians.  Plenty of humour.  Enjoyed the selection of tunes.  A very good evening.  As our youngest granddaughter would say 'I'll have more of that'."
Roger Hart: "An uplifting evening; nicely balanced playlist; great musicianship."
Malcolm & Maureen Swire & Veronica Walker: "This band compares with the best we have heard at the Club in many years.  Great entertainment, musicianship and variety of music.  Please book them again."
Bericht: Hello Peter,
Will you please publish this review on your website: Storyville Jassband made a very welcome return visit to our club on the 29th April 2018, and gave an excellent and enthusiastic performance, this encouraged the dancing members of the club to occupier the dance floor the whole evening.  At the end of the evening all our members and guests gave a rightly deserved Standing Ovation.  We invited them to play again at our club during 2019.

Kind regards and Best wishes to you and the other members of the band. Roy

Hallo Peter het was een fantastisch en enthousiast optreden van jullie, je hebt het aan het publiek gezien, men bleef tot het laatst ondanks de frisse avond. 
Graag willen wij jullie weer uitnodigen voor volgend jaar ( 2019) op Koningsdag in Velp om voor ons ( het publiek) te spelen.
Ik weet dat jullie in Engeland zitten en wens jullie allen een fijn optreden daar.
Ik hoor tzt wel van je,
Nogmaals bedankt namens ons bestuur, gr Kees
STORYVILLE JASSBAND from HOLLAND, who gave us a wonderful evening back in August 2015 are on tour and back here again this FRIDAY, 28th APRIL 2017 at our FARNBOROUGH JAZZ CLUB.  The band members are MICHEL MULLER (trumpet/vocals), HENK VAN DE VEN (clarinet), PETER DOBBE (trombone/ guitar/vocals), HENK VAN MULLIGEN (banjo), HEIN VAN ROOIJEN (double bass) and STEF GEURTS (drums).  It will be Michel's first time of playing here at Farnborough, but Stef was here before with the Limehouse Jazz Band back in 2014.  I'm looking forward to seeing them again, if you read my newsletter about their evening here in August 2015, you will see I tell of them bringing the 'house down'
Diane and Keith
Reviews Jazz  Clubs  Tour 2016
Roy Thompson, Colchester Jazz Club:
"All the members of the club really enjoyed the performance of the band last night, a fantastic evening, which encouraged the members to dance. 
When you plan your next UK tour, will you please include our club within your plans; as we will be delighted to offer the band a gig on a Sunday evening."
Stuart Currie, Barnsley Jazz Club:
"The men of the Storyville Jassband were wonderful on Monday!  The general opinion in the club was that it was the best band they had heard for many years.  There was talk of a tour next year.  If this happens please include Barnsley Jazz Club."
Bob Eley, Kingsbridge Jazz Club:
"I must thank you for a truly remarkable evening of wonderful music, played by very accomplished musicians.
They all provided some stunning music, studded with very entertaining and spontaneous humour which resulted in a memorable evening of first class entertainment. 
Our audience responded, as one would expect, with enthusiastic cheers and applause throughout the entire evening. Some new visitors signed up as club members on the strength of the performance. The evening ended up with a deserved standing ovation."
James Scanlon, Kingsbridge Jazz Club:
"The performances from all players were superb. A band that is as established as this one has a very polished ensemble. Some of the comments from the audience I heard were "stunning", "fabulous", and "memorable". 
Their repertoire included such favorites as "The man I love", "Riverside blues" and "Sweethearts on parade"
Every performer was outstanding in their discipline, which gave us a plethora of superb solos. A treat came from trombone player Peter Dobbe when he took up his guitar and gave us a Django Reinhardt composition for which he received an explosion of applause from the audience.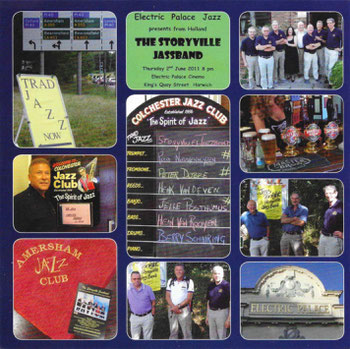 Hazel Fox, Pump House Jazz Club:
"The band went down a storm and there is no question that we shall welcome them back.
Everyone cheered and shouted for more music at the end which is quite unusual with our audiences, so, yes, they were wonderful and such nice people."
Storryville Jassband in kasteel Doornenburg
In de goed gevulde ridderzaal van kasteel Doornenburg speelde de Storryville Jassband afgelopen zaterdagavond 27 januari in een nieuwe bezetting een weergaloos concert.
De klarinettist en banjospeler speelden deze avond voor het eerst mee en de kwaliteit van de band is er merkbaar op vooruit gegaan.
Vooral de klarinettist is een aanwinst voor deze bijna 60 jaar oude band. De prachtige klanken die hij uit zijn instrument weet te krijgen zijn een genot om naar te luisteren.
Ook de fantastische drumsolo aan het eind van de 2e act kon op een warm applaus van het enthousiaste publiek rekenen. De band eindige het optreden na ruim 3 uur met een lied van Louis Armstrong dat van toepassing was op de hele avond: What a wonderful world.
Jan van Swaay